Hutcheson Ford Yard Sale Donation Video Contest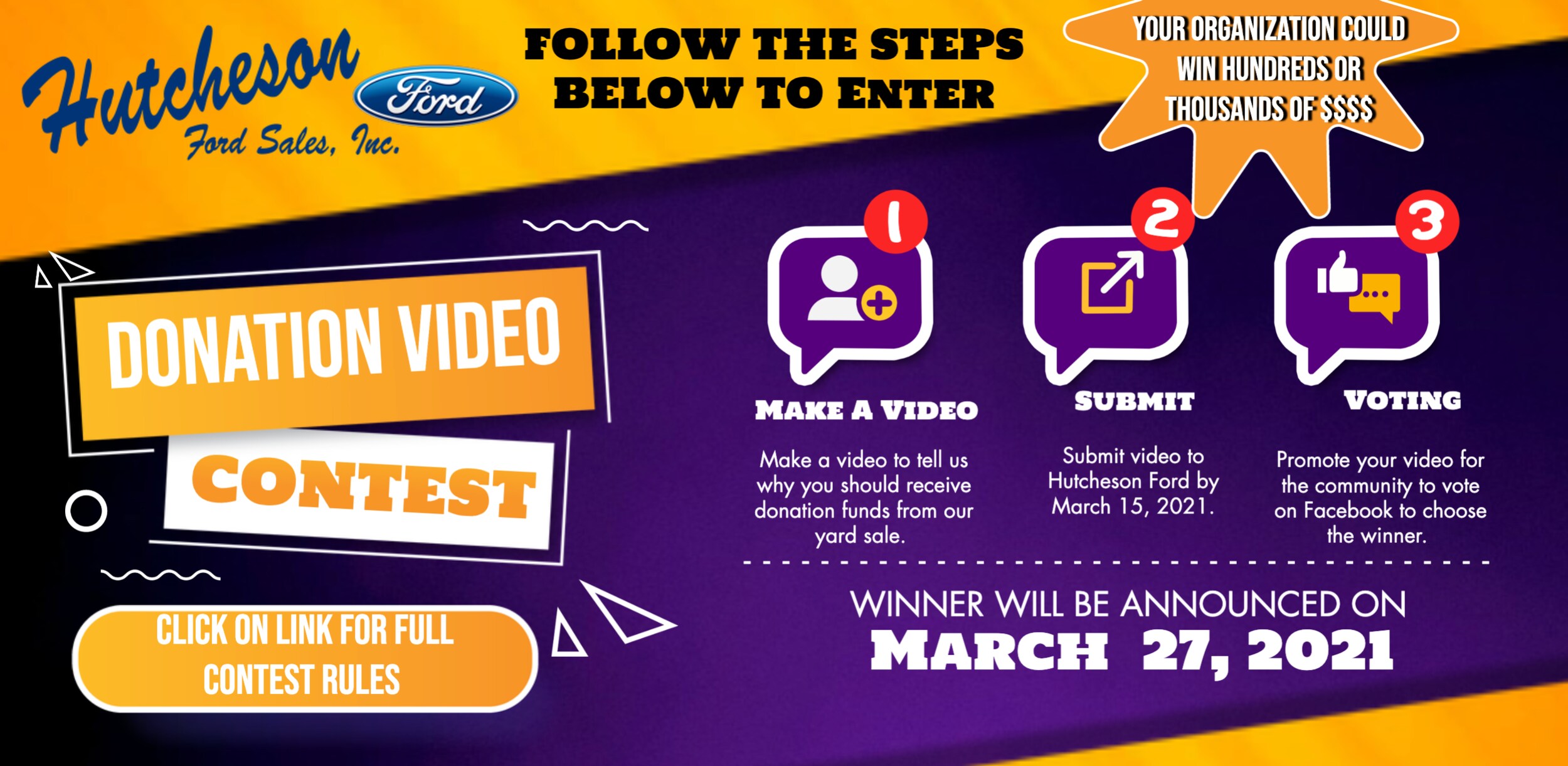 Hutcheson Ford Yard Sale Donation Video Contest
Eligibility Requirements
The Video Contest is open to anyone that is requesting a donation for their organization, group, school, or charity. We would like to keep the donation within the St. James area and surrounding communities. 
Selection Process
During March 19th - 26th, the public will play a part in determining the winner. The winners will be chosen based on the number of "likes" each individual video receives on Facebook. Hutcheson Ford will post all videos on their facebook page. 
Winner
Hutcheson Ford will hold a yard sale at the dealership on April 2nd and 3rd. (In the past we have raised over $4,000 at this event.) Hutcheson Ford employees will add donations to the yard sale along with anyone else that would like to donate. We would like for the winner to be present to promote and help during the sale but it is not a requirement. We ask the winner to help promote the yard sale after they are chosen as well. 
Contest Timeline
Call for Entries ………………………… March 5 - 15, 2021
Deadline to Submit Video ……..……...March 15, 2021
Public Voting........................................March 19 - 26, 2021
Notification of Winners ………………. March 27, 2021
Date of Yard Sale ……………….……. April 2 & 3, 2021
Submission Requirements
In order for a contest submission to be eligible, the video must be submitted online no later than March 15, 2021. Videos must be submitted via youtube link. Please make sure the settings are set to public so we can access it. You can email the link to Charity Satterfield at charity@hutchesonford.com. Links submitted must be labeled with the organizations name and Video Title.
Video Requirements
Each Submission must be no longer than two minutes (120 seconds) in length.

The Submission must be your own original work, created solely by you. It must not have been previously published, released or distributed in any form; must not have won any award; and must not infringe the copyright, trademark, privacy, publicity, or other personal or proprietary rights of any person or entity. video may use various images/clips taken from acceptable sources to compose their own unique work.

Music used in the submission must not violate copyright laws or require any additional clearances for Hutcheson Ford to use or post on public websites or to use in public forums of any kind.
Video File Format
All video files should be submitted via youtube link. 
For answers to questions about this contest, please email Charity Satterfield at charity@hutchesonford.com or call 877-315-0624.